The concentrating flotation machine is one type of mining flotation machine. This device is mainly used in the concentration tasks of nonferrous metals such as lead, nickel, copper, zinc, and molybdenum, as well as ferrous metals and nonmetallic minerals. The discharged materials of concentrating flotation machine are thinner than those of the ordinary mineral flotation machines. In the flotation operations, concentrating flotation machine can satisfy different demands by means of adjusting the structure and operation parameters.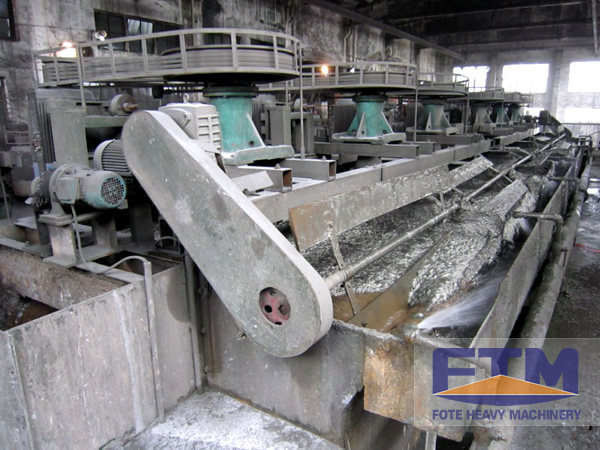 1. Reasonable structure and process.
In the rough concentration operations, we can modify the equipment and lengthen the separation times to promote the flotation efficiency finally. The rough concentration recovery rate can reach to 89% and the grade of the coarse concentrates can be up to 5.4%, thus greatly alleviating the load in the concentrating procedure.
2. Reasonable flotation period.
After being improved, the volume of flotation machine's concentrating system is increased somewhat, and the flotation time also meets the designed requirement. The flotation period of the rough concentration will be increased by 0.42 times and extended by 8 to 10 minutes. So the rough concentration recovery rate has an obvious improvement. If we increase the handling capacity of raw ore or raise the grade, all the mineral pulp can be separated adequately.
3. Superior performance.
Concentrating flotation machine has a large inspiration capacity, stronger stirring force and better mineralization effect than the ordinary ones. It can form stronger secondary enrichment and make the useful minerals further separated from the impurities and consequently promote the quality of the concentrates.
4. Optimal process parameters.
After the modification, the secondary grinding effect of the concentrating flotation machine also gets improved, the classifying efficiency of the hydrocyclone is raised substantially and the overflow fineness is promoted significantly as well.