There are 98 kinds of gold minerals and gold-bearing minerals having been found, among which only 47 kinds are commonly seen and only about 10 kinds are directly used in industries. In our country there are nearly 38 kinds of gold-bearing minerals and the gold content in the minerals is relatively low.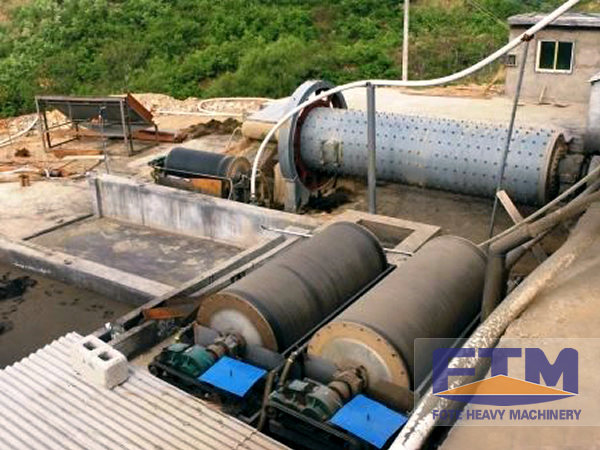 Gravity separation and flotation are the most commonly used methods in gold ore separation process. A majority of gold deposits in our country adopt the above two methods to extract gold, and nowadays we have greatly improved ore dressing technology and mineral processing equipment.
According to gold structure and state in the minerals, gold minerals can be divided into three broad categories: gold mineral, gold-bearing mineral and gold-hosting mineral. In general, the current mainstream gold ore separation process firstly smash the ores by means of crushers and send the broken ores into ball mill for grinding, then through gravity separation and flotation process to extract ore concentrate and tailings, and then through chemical method and finally in virtue of smelting to obtain the finished gold products.
Crushing & Grinding
The crushing process adopts jaw crusher for primary crushing, standard cone crusher for secondary crushing, and short-head cone crusher and roller crusher for fine crushing. In order to improve the productivity and equipment utilization coefficient, the ore dressing plants usually follow the principle of more crushing than grinding to lower down ore feeding granularity.
Gravity Separation
Gravity separation is a method to classify ores according to the difference in mineral density. The main equipment includes spiral chute, shaking table, jigging machine and short cone hydrocyclones, etc.
Flotation
In our country, 80 percent of beneficiation plants choose flotation method to separate gold, with the output concentrate generally sent to nonferrous smelting plants for further processing. Due to the growing development of cyanide process and the purposes of enterprises to improve economic efficiency and reduce transporting losses, most plants adopts the in-place disposal.