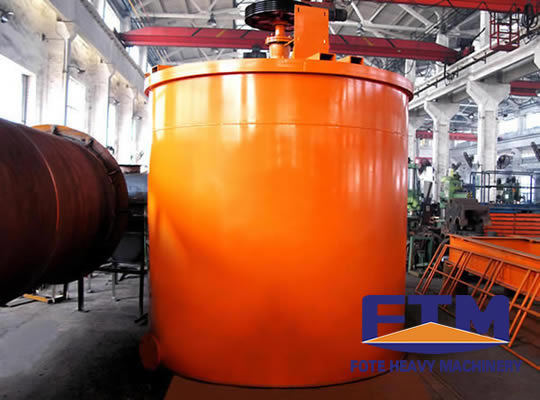 A plurality practice of mining mineral processing enterprises has proved that efficient mine mixing barrel can improve the precision and the production capacity of the beneficiation production line, which provides a good condition for the flotation machine and other follow-up devices. Mixing barrel contributes to the sufficient reaction and mixing of pulp and other materials, which is mainly used before the flotation machine or between the high frequency sieve and spiral classifier to carry out the function of entire production line. Materials are put into the interior through the upper semi circular inlet, and the professional internal spiral blades can stir the slurry evenly and reasonably. Suitable materials will be discharged from the down discharging mouth. Because of its special structure, the pulp will not stick on the wall of mixing barrel.
When compared with other mixing barrels, the maximum effective volume of Fote mine mixing barrel has reached 19.1 cubic meters, and the largest diameter of cylinder 3000mm. The motor drives the belt and the pulley on the central axis, which can directly stir and mix the pulp. The circular structure can save power when leaves are rotating, because circular inertia is very strong, in addition, the semi-circular feeding style semi-circular can avoid overflow of the pulp.
The whole structure is composed of a circular steel cylinder, inlet pipe, outlet pipe, central shaft, motor, spiral blades and other components. The central shaft is placed in the center of the cylinder, which is easy to drive the structure of the cylinder. With the drive of motor, materials can be clockwise and counter clockwise stirred inside the cylinder. The motor is placed on the upper end of the machine. Fote mixing barrel has simple structure and convenient installation, which has stirring and mixing forces to realize long time processing. With the change of stirring speed, it can achieve full time working without dust removal operation.