Flotation machine is one of the most important flotation equipment in the mineral processing process and mainly used in the roughing, reverse flotation and fine concentration operations of copper, molybdenum, lead, zinc, nickel or other non-ferrous metals, black metals and nonmetallic minerals. Because of its large beneficiation granularity, flotation machine is widely applied to many large and medium-sized enterprises. Fote Machinery is an large-sized manufacturing base of ore dressing equipment in domestic, as well as the reliable manufactures specialized in producing and selling all kinds of beneficiation machinery. Today, I will share some main functions of the high-configuration flotation machine with you.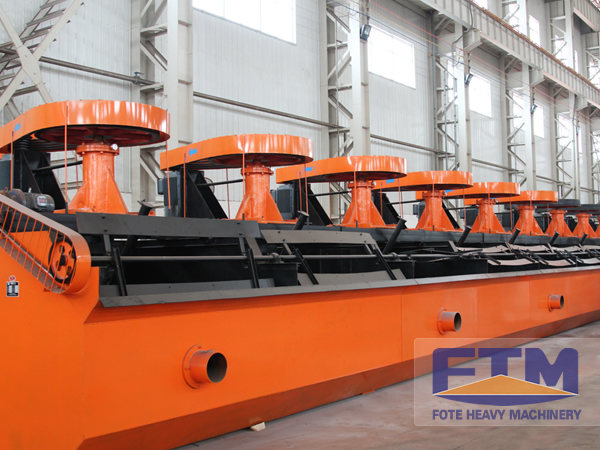 1. Good mixing effect on ore pulp, making the ore particles in suspension state without precipitation, distributed evenly in the flotation cell and moving and colliding, so as to achieve the adhesion of the agent to ore particles.
2. Introducing air, to produce stable bubbles with proper size and sufficient quantity and make them dispersed in the pulp in order to generate selective adhesion and realize mineralization.
3. During the flotation process, sometimes it needs to adjust foam layer's thickness and pulp flow. Moreover, it's a successive process from feeding to the emersion of concentrate and to the discharge of ore tailings.
In use, the correct operation and maintenance can give full play to the functions of flotation machine, promote the production and use efficiency and save costs. Fote Machinery is professional in the production of full-set mineral processing equipment, ball mill, flotation machine, magnetic separator, heavy hammer crusher and so on, with high technical content and excellent performance. Henan Fote Heavy Machinery Co., Ltd. has reached the advanced level at home and abroad and won a number of technological patents. Welcome customers to our company for cooperation. Consulting hotline: 0371-69606666.