High efficiency concentrator is often used for the dehydration of ore in ore dressing process, which is widely used in metallurgy, chemical industry, nonmetallic ore dressing and the environmental protection industry. It is the new ore dehydration equipment with mud layer filtration. Currently, the most widely used concentrator is the continuous mechanical unloading concentrator, which is also called the rake thickener. This type of concentrator can be divided into central transmission type, peripheral transmission and multilayer thickener, of which the peripheral driving type can be divided into peripheral rack and peripheral roller types.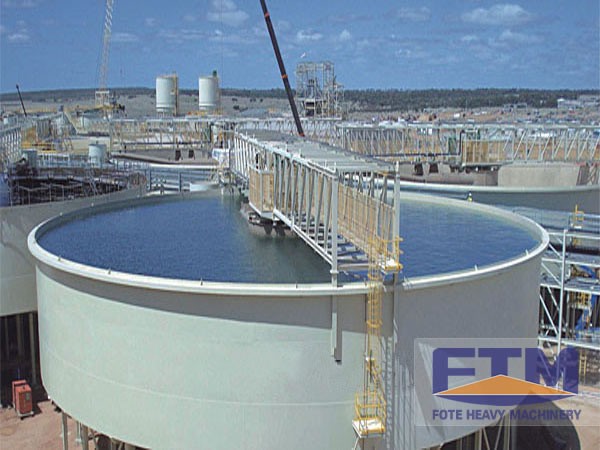 Concentrator is the mechanical dewatering equipment, which is commonly used in the prior to filtering concentrates or tailings dewatering, and it also can be used to purify concentrate which contains solid slurry in coal industry, chemical industry, building materials, water, sewage treatment and other industrial. The utilization of tailings dewatering thickener is mainly for the use of recycling water and it is convenient for tailings storage in tailings dam. In addition, in order to improve the technology process, if the slurry is too thin and operating conditions require the thicker material, it also needs to concentrate. Therefore, concentrator is one of indispensable dewatering equipment in mineral processing technology of the production process.
During the application of high-efficiency concentrator, the choice of flocculant also plays a vital role for the efficient use of thickener, polyacrylamide flocculant is the most widely used type and its effect is the best, the flocculation effect is higher than molecular organic compounds in general, which can accelerate the flocculation effect, thus the process of concentration is greatly shortened. However, due to the high price of its high efficiency flocculant thickener, in the practical design, it adopts the design of inclined plate, which can make the flocculant improve the utilization rate to the maximum extent. In addition, it can also be conducted the scientific transformation through the transformation of the concentrator, so that the pulp can be directly fed into the transition end, thereby increasing the precipitation area.