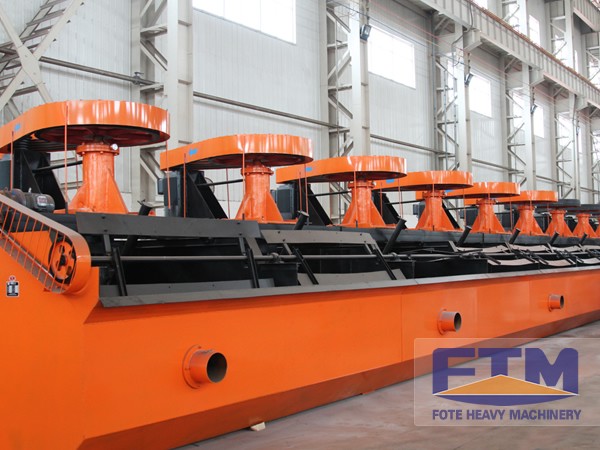 Flotation machine industry nowadays is developing rapidly. It has a wide application field and relative high automatic degree. So as for the modern flotation machine, if it wants to achieve high-level automatic degree, the flotation machine should have a stable functioning and its components should have a long service life. More important thing is that its operating system should have process simulation and remote control ability. Only by this, can this flotation machine be called automatic one.
Besides, first-class flotation machine should also have good inflation effect, and should be able to suck or press enough air in the pulp and produce a large number of modest bubbles and make them evenly dispersed throughout the cell. It will have a better performance if it has a better inflation effect, better air dispersion, more uniform of bubble distribution and more chance for ore and bubble contact. Flotation machine should have a stable foam zone with a certain thickness on the ore pulp surface. Mineralizing mineral foam layer can not only keep the target minerals, but also separate some gangue from the foam in order to bring convenience to the secondary enrichment.
As the government pays more and more attention to mineral resources, the pressure of ore mining and separating work will be bigger and bigger. With the increasing of flotation cost, it is a big pressure for small scaled enterprises, while its maintenance is the premise of its highly efficient utilization. Many enterprises choose to use SF type flotation machine and XCF type flotation machine to form a combined beneficiation method, which can process large-scale materials and be maintained easily.
At the same time, we should see that large-scale mixing type flotation machine has some disadvantages, which is because our country large-scale flotation machine cannot compare with internationally advanced level, so at present, flotation machine production is unable to meet the requirements, among which most of them need to be imported from abroad. It is a bottleneck restricting the development of mineral processing equipment in our country. So there is large space for innovation and development.