Limonite is a kind of hydrous ferric oxide ore. It has a wide distribution in nature. Generally speaking, the iron content of limonite ore varies from 37% to 55%. Sometimes, limonite iron ore contains a high level of phosphorus. Limonite has a strong water absorption ability and usually holds a large amount of moisture. Through roasting or after heated in the blast furnace, the unbound water and crystal water will be removed, greatly improving the reducibility of the ore. So limonite has a better reducibility and higher content of iron than hematite and magnetite.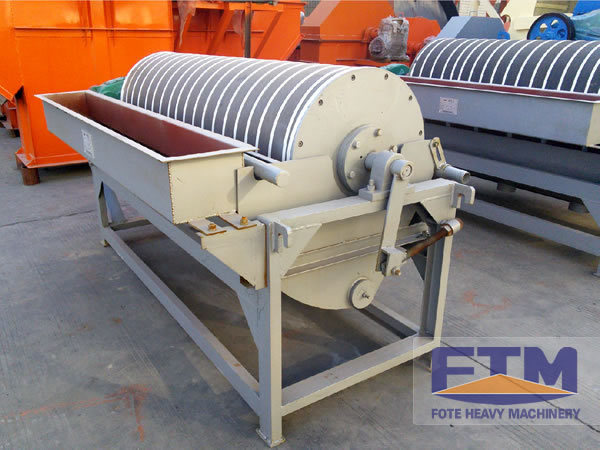 Wet type permanent-magnet cylindrical type separator is also called wet-type permanent magnetic drum separator. It is the dedicated device for the beneficiation of limonite iron ore and hematite iron ore. This type of magnetic separator is generally used in the separation of low-grade and weak- magnetism limonite and hematite ores. It's able to improve mineral grade by 3% to 7% for one time.
This wet-type permanent magnetic drum separator well solves the difficulties that low-grade limonite iron ore cannot be smelted and is hard to sell. It finds a way out for low-grade ores and creates considerable economic benefits for customers.
Wet permanent magnetic drum separator is of small investment, high return and quick result.
Henan Fote Heavy Machinery is a professional manufacturer of new-type magnetic separating machines. It possesses progressive magnetic separating techniques. The wet-type permanent magnetic drum separator is made of high-magnetic rare earth materials and processed by advanced process. The magnetic induction intensity on its surface is as high as 5000-18000 gauss. The new-type wet permanent magnetic drum separator has excellent mechanical property, reliable operation and is easy to manipulate and maintain.