Spiral sand washing machine applies high-end scientific techniques and presents a good development trend. As a professional spiral sand washing machine manufacturer in domestic, Fote Machinery insists on introducing advanced technology and taking in high-tech talents all the way and makes progresses along with constant improvement. Our spiral sand washing machine is applicable to the desliming and cleaning operations of a variety of production processes, such as construction, sandstone aggregates, hydropower construction, artificial ore mining and so on.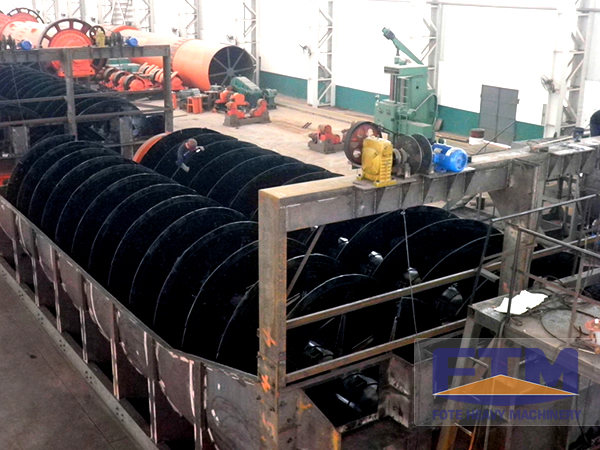 The sand and gravel aggregates washed by spiral sand washing machine can greatly enhance the solidification strength and structural intensity of cement. Spiral sand washing machine is generally used to classify aggregated rocks whose granularity are under 70 mm. It is by means of the principle that different-sized solid particles have different specific gravity and different settling velocity in the liquid, to wash and classify materials. In use, when this equipment is to start, the impeller should be unloaded. Besides, we'd better avoid booting the machine loaded and don't feed until it runs smoothly. Moreover, avoid eddy caused by fixed water-flushing locations.
The output is closely related to the power of electric motor. Therefore, the choice of electric motor for spiral sand washing machine is of particular importance. Since electric motor is the main power of the whole equipment, so we must choose appropriate electric motor according to our own production capacity.