Magnetite ores are first to be broken preliminary by rock crushers, after crushed to a reasonable fineness, the ores via elevator and vibrating feeder, will be evenly fed into the ball mill to grind. After ground by the ball mill, the fine mineral will enter into the next process: classification. Magnetic separator selects and classifies the ores by means of the different magnetism of different solid particles. According to the difference of magnetism, after mineral particles being fed into the magnetic separator, the magnetite minerals will be separated from other impurities.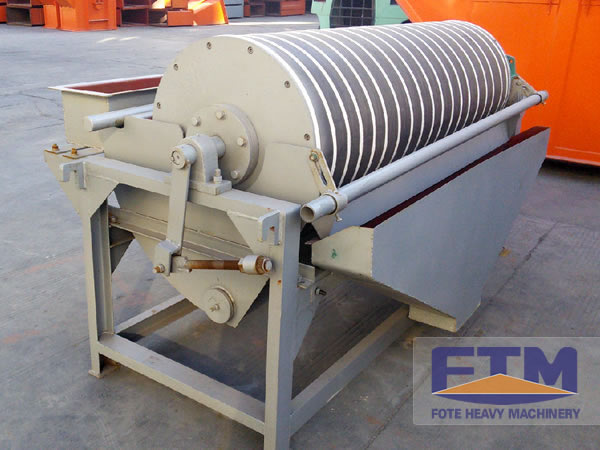 The iron ore magnetic separator can be divided into dry magnetic separator and wet magnetic separator, whose main purpose is to separate iron powder, in addition, part of weak magnetic minerals can also be separated. It is most widely used in mines and sand fields.
Iron ore magnetic separator can apply two magnetic separation at the same time. The first is water separation to recycle coarse iron powder and the second is aimed at selecting fine iron powder. Our equipment adopts energy saving and green design, with small investment and quick effect. Iron ore magnetic separator is equipped with vibrating screen and conveyor equipment. It is mainly suitable for arid region, deserts, the gobi desert and so on, and can use sand pump for loading materials with a radiative sand mining radius of 50 to 100 meters. Magnetic separator also can be installed on sand mining vessels, riverway, beach, sandbeach, sandpile, etc., needn't to be fixed and can be dragged at any time, with a processing capacity of 90 to 150 cubic meters per hour.
Our company provides an entire pipeline scheme for ore processing, including ore analysis, process recommendation, equipment selection, commissioning production and after-sales service. Welcome customers to visit our company and consult!