Magnetic separator is suitable for the removal of iron powder. It is widely used in resource recycling, timber, mining, ceramics, chemical, food and other industries. It is one of the most widely used and highly versatile models. Magnetic separator is not only suitable for wet or dry separation of manganese ore, magnetite, pyrrhotite , roasted ore , ilmenite and hematite limonite whose particle size are less than 50mm, but also for iron removal of coal, non-metallic minerals, construction materials and so on. In general, magnetic separator leads to 90 % ore utilization. It can save water as well as costs. Magnetic dust is collected by dust collecting devices, which will not cause air pollution. It is a creative method with high productivity, high quality and less environmental pollution.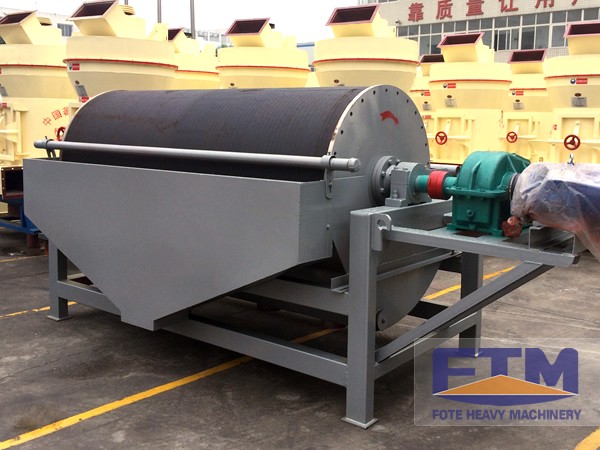 Its main characteristic is the overall magnetization technique. By using the dynamic magnetic technology and the optimized magnetic system of axial magnetic field strength as well as the magnetic field gradient, the magnetic mineral grains in the cylinder surface are more fluid, which can avoid unnecessary loss of micro sized particles. The adoption of integral magnetizing technology, each pole in the axial air gap will be reduced to zero, which cannot only reduce the axial magnetic flux leakage, but also can improve the effective length of magnetic system. The traditional magnetic separation equipment is equipped with magnetic hollow coil, and its shortcomings are mainly as follows: the maximum magnetization length is only 260mm, which seriously affects the work reliability. However, the roller of dry magnetic separator has unique, scientific, ingenious design of magnetic circuit after improvement, by adopting different properties of permanent magnet source, strong magnetic force and high purity. It has the characteristics of low energy consumption, safe use, convenient operation and low repair rate.
Fote Machinery produces magnetic separator, wet separator, dry separator, barrel separator and other magnetic separating equipment with reasonable price and reliable quality. We can produce corresponding products according to the different requirements of customers. In addition, our company will send technicians to guide the on-site installation and training. Welcome to visit us!