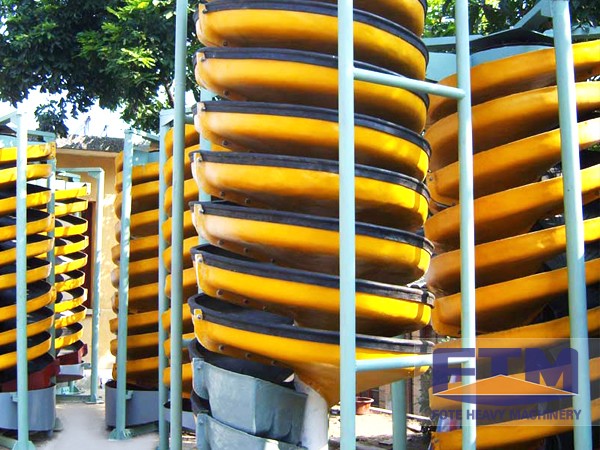 Spiral chute is the best equipment in mineral exploitation and ore beneficiation, especially suitable for sand exploitation in beach, river and stream. it has features like reasonable structure, simple installation, small covering area, stable ore beneficiation, clear ore classification, big production, high efficiency, high concentration ratio, reliable functioning, etc.
Spiral chute, as one of the mining machineries, combines the features of spiral concentrator, concentrating table, centrifugal separator and thickener. So it is an inevitable machine in ore beneficiation production line. Its high automatic degree, simple operation, few manpower and low maintenance cost make it widely used in industry. The spiral chute should configurated in pairs and fed with multi-tube ore classifier at a fixed quantity. The spiral chute is configurated as a line continuously to save land. Refer to the following installation process.
1. Check the quality of screw panel of glass fiber reinforced plastics (especially the quality of working surface) to see if its size and shape reach requirements or not.
2. The connecting bolt holes on screw panel are often prefixed by manufacturers. If manufacturers didn't process it, we should drill holes as the sample to ensure its good interchangeability.
3. Connect the five screw panels with screw into a pair of spiral chute and position it horizontally. We should pay attention to that the lower surface shouldn't be lower than the according lower surface. The aim of installation with this method is to avoid ore splash. We should level it with putty if there is gap between the connecting places.
4. Combine the connected screw panel together according to the required shape.
5. After installation, the screw panel should keep its natural shape and without obvious deformation.
6. Install the feeding chute and product interception chute in the head and tail of spiral chute separately. The spiral chute should be smooth and sealed firmly, if there is gap, we should seal it with paint.
7. After installation, we should check if the vertical axis of spiral chute is vertical. The operating plate of spiral chute should be installed on a suitable height. The support of spiral chute and operating plate should be connected reasonably.