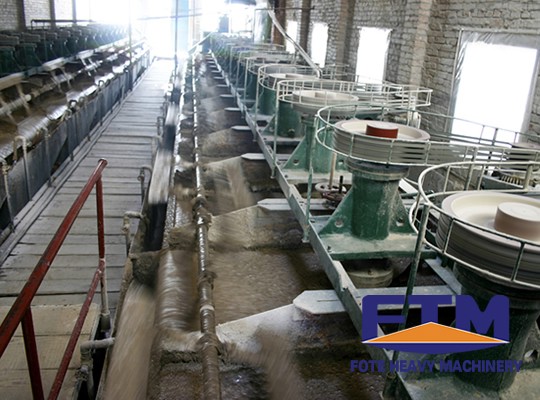 As everyone knows, now the price of gold is increasing, which is warmly welcomed by the vast number of miners. As a manufacturer of gold beneficiation line, Fote Machinery reminds you that you need to be cautious when investing towards this field; the personal investment is not suggested in the form of gold industry. For private usage, many users have approaches to gold ores, but they cannot afford to buy beneficiation equipment. Generally, the relationship between the yield and the investment of gold mineral processing equipment is relatively becomes inverse ratio relation, if the production quantity is less, and the cost will be higher; or the higher the yield, the lower the cost it will have.
Gold beneficiation industry not only has to consider the future, but also needs to consider the rationality of project in line with the national and local requirements. At present, the gold flotation, flotation cyanidation and amalgamation is the widely used processes in the gold field. But there is great pollution to the environment, and it is difficult to meet the emission standards. Moreover, the chemical toxicity in the process of gold separating is very large, which on has serious damage to the health of workers at the same time. Among them, the amalgamation with mercury is the famous 'liver killer'. While approving cyanide, sodium cyanide and potassium cyanide only trace amounts of absorption of could be deadly for the human body. In the traditional gold field, occupation disease caused by chemical is often seen.
In view of this situation, Fote experts who are in conjunction with the gold ore dressing equipment have developed the latest foreign technical physics gold separating process without the addition of chemical elements, which has realized the first implementation of the pollution-free production of gold. The application of this new technology has not only liberated gold production workers from the agent of bitterness, and the tough living environment, but also greatly reduced the production cost of gold beneficiation line.