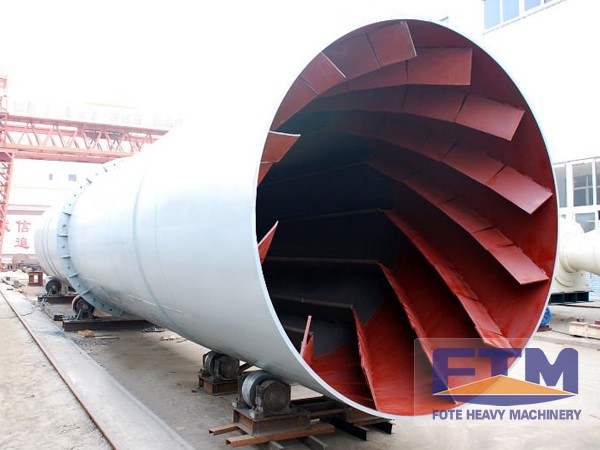 When purchasing a rotary drum dryer, you must know about the working principle of rotary drying machine firstly: the wet material is transferred by belt conveyor or a bucket elevator to the hopper, and then put into the feeding end through feeder of the hopper. The slope of the pipeline is greater than the natural angle of materials, so that the flow of material will be smooth in the dryer. The dryer is a rotating cylinder, which is slightly tilted with the horizontal line, and then the materials will fall from the high-end and the heat carrier will enter from the low-end entry. When the materials are in the countercurrent contact, rotate the cylinder, the material will move to the low-end with the action of gravity. The wet material will directly or indirectly dried by the heat carrier. Finally, the materials will be discharged by a belt conveyor or a screw conveyor.
Secondly, when purchasing rotary drum dryer, pay special attention to the performance of the dryer. If the components have the advantages of high technical elements, high quality, energy saving and long duration, they can extend the service life of the drum drying machine.
Then it is the choice of hot blast stove, which directly determines the quality of the drying effect of the dryer. If the hot blast stove is not good, it may lead to the low moisture content of drying or the drying moisture cannot achieve the desired effect. Thus before purchasing the stove, it is necessary to fully understand whether the utilization rate of the furnace heat is high, whether the stove wall smooth, or whether there are material blockage phenomena in the stove.
At the same time, ask professionals to provide on-site command of installation and training. Hongxing Machinery is a powerful manufacturer of drying machine, which is the collection of scientific research, production and sales systems. We have strong comprehensive strength, reasonable price and thoughtful services. We will send professionals to choose a suitable rotary drum dryer for their own production equipment of customers. Meanwhile, we also have professionals to offer on-site installation and debugging for free. Welcome to contact us!