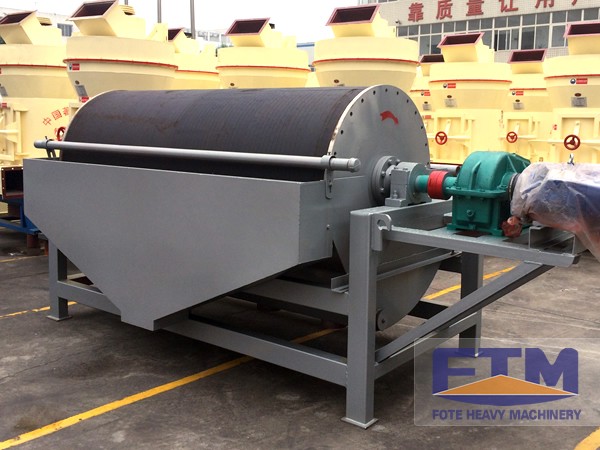 Minerals generally exist in a mixed state. Therefore, the positioning problem of magnetic separation machine is unavoidable. The recovery rate of the machine is always 45%-51%. Then it will lose 2%-4% in the flotation and the dehydration process, so the recovery rate of magnetic separation machine will be low. Fote Machinery has made a summary through piles of researches:
(1) Increase the ore concentration of magnetic separation, which increases from the original 20%-22% to 30%-35%.
(2) Reduce the grinding fineness, from the original -0074mm with 72%-78% content down to 60%-65%. When the fineness is reduced, it will ensure the increase of graded overflow concentration.
(3) Adjust the gap between two tooth plates. The upper tooth plate should adopt movable tooth plate with 32mm clearance; the lower tooth plate with 28mm. Thus appropriately raise the separation field, which is beneficial to improve the recovery rate.
(4) Strengthen the operation of slag and iron removal. Regularly dredge the blocked tooth plate to ensure the successful pass of the slurry.
(5) With the increase the concentration of ore and the decrease of the fineness, the grinding capacity will also slightly increase from 20t/h3t to 25t/h3t. The improved classification index has greatly increased.
Fote Machinery is a professional manufacturer of magnetic separator. In the years of production practice, it has accumulated rich experience of magnetic separation. Fote magnetic separator is in continuous optimization, so as to maximize the benefits for customers.